Rebranding the NHL
New York Islanders
Boston Bruins
Ottawa Senators
Atlanta Thrashers
Anaheim Ducks
Sorry this took so long! I've been so busy with starting college, I had to take a break from logo design...
Alright, I know I said that the Devils would be next, but it's still a work in progress. So instead of waiting, I'm going to skip it and go to the next team: the Florida Panthers.
The Panthers have always had solid logos, but they have always been lacking certain elements that keep them from being one of the best sets in the league. So I went to the drawing board and tried to fix all of the problems I saw. The new primary contains curves, not the straight, jagged lines of the old one. The secondary remains pretty much the same, with only a few slight changes made. The new tertiary is an interlocking F-P, with scratch marks. Finally, a brand new custom wordmark.
Florida Panthers Logos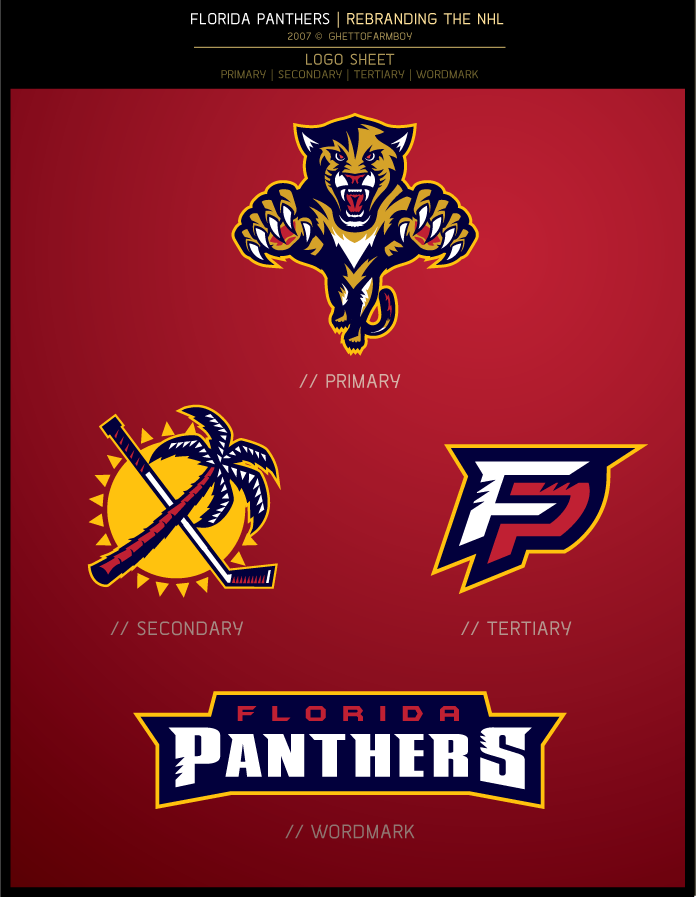 Here is a side-by-side of the new and old primary logos.
I was very dissapointed in the Panthers new uniforms. I was always a big fan of the red jersey. So I brought it back as the primary, with the navy alt. The home and away features a shoulder yoke and horizontal stripes. The alternate is a simplified version of their new away jerseys.
Florida Panthers Uniforms
C&C as usual...
Next will be the San Jose Sharks. Devils fans just sit tight for a little longer..
GFB